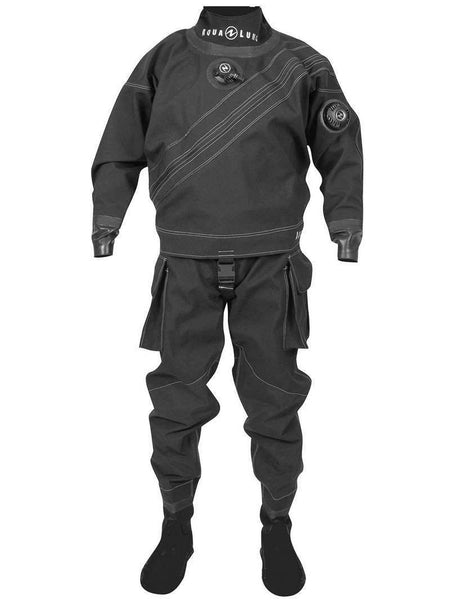 £750.00
Availability: Unavailable
Description
Aqua Lung Alaskan Drysuit
The Aqua Lung Alaskan Drysuit is Aqua Lung latest design in trilaminate drysuits. It is lighter and reinforced with a telescopic torso and a front zipper that allows the diver to equip himself. The front zip makes this drysuit easy to put on and take off so divers do not have to worry about struggling with this drysuit. The neck and wrist seals are produced in latex and neoprene socks that allows for the use of the traditional boots.
This comfortable drysuit is every divers dream as it keeps you dry thanks to the layered material, and also the design makes this drysuit a lot easier to move compared to other drysuits on the market. There is also an adjustable crotch strap and suspenders to keep the suit in place when you are diving in the underwater world.
Key Benefits
Telescoping Torch

 

- The Aqua Lung Alaskan Drysuit has telescoping torso for a customise fit. This is an important for a drysuit because having features such as telescoping torso which make this drysuit more comfortable to wear.
Adjustable Crotch Strap

 

- This Aqua Lung drysuit is well designed so it can withstand years of diving. The design includes an adjustable crotch strap which keeps the drysuit in place whilst you dive, so once comfy you will stay comfy.
Wrist & Neck Seals

 

- The Aqua Lung Alaskan Drysuit has features which keep the water out, these features include wrist & neck seals. Not only do the seals keep the water out, but they also are comfortable on the skin and keep the drysuit in place.
Over Collar

 

- This drysuit has a protective over collar which is a feature to keep divers protected from cold water and keep the diver warm.
Spacious Pockets

 

- The Aqua Lung Alaskan Drysuit has spacious pockets so divers can carry other equipment within the pockets, these pockets include attachment loops which allow divers to attach even more equipment or safety straps for equipment.
Rugged Boots

 

- Unlike some drysuits The Alaskan Drysuit includes boots which are attached to the drysuit. The rugged boots have fin straps which makes attaching fins easy.
Trusted Dry Zipper

 

- The Aqua Lung Alaskan Drysuit features a trusted self-entry dry zipper which keeps the diver dry when wearing this drysuit. The zipper included on this suit are heavy duty.
Durable Material

 

- This drysuit is made from durable material which overlays in the seat and knees, this is for longer life in high-wear areas.
Reflective Forearms & Calves

 

- Another feature that makes The Alaskan Drysuit special is the reflective patches that are included on the forearms & calves, these are included so that the diver can be seen in dark water conditions.
Inflate Valves

 

- The Aqua Lung Alaskan Drysuit has high performance inflate valve, exhaust valve and hose.
Includes

 

- When buying this drysuit you don't just get a high quality dry suit that comes with a hood, change mat/carry bag, hose and maintenance kit.
Who is Aqua Lung Alaskan Drysuit for?
The Aqua Lung Alaskan Drysuit is for divers looking for a high quality drysuit which includes many different accessories and boots which fins can be attached. This Aqua Lung drysuit is a great piece of diving gear which keeps you warm and dry, there is also a hood included which is to keep divers head warm. The Aqua Lung Alaskan can give you protection from the cold and keep you dry, using this suit to dive deep into the ocean would give you an incredible amount of comfort and is long lasting thanks to the great material used.
| Size | Height (cm/ft) | Chest (cm/ft) | Hips (cm/ft) | Crotch To Floor (cm/ft) | Foot |
| --- | --- | --- | --- | --- | --- |
| SM | 168 - 173/5'6" - 5'8" | 90 - 96/36" - 38" | 90 - 96/36" - 38" | 74 - 79/29" - 31" | UK 8/EU 40/41 |
| MD | 173 - 178/5'8" - 5'10" | 96 - 101/38" - 40" | 96 - 101/38" - 40" | 76 - 81/30" - 32" | UK 9/EU 42/43 |
| ML | 178 - 183/5'10" - 6' | 101 - 106/ 40" - 42" | 101 - 106/ 40" - 42" | 79 - 84/31" - 33" | UK 10/EU 42/43 |
| LG | 183 - 187/6' - 6'2" | 106 - 111/42" - 44" | 106 - 111/42" - 44" | 79 - 84/31" - 33" | UK 11/EU 44/45 |
| XL | 187 - 191/6'2" - 6'3" | 111 - 116/44" - 46" | 111 - 116/44" - 46" | 81 - 86/32" - 34" | UK 12/EU 46/47 |
| 2XL | 191 - 196/6'3" - 6'5" | 116 - 120/46" - 48" | 116 - 120/46" - 48" | 81 - 86/32" - 34" | UK 12/EU 46/47 |