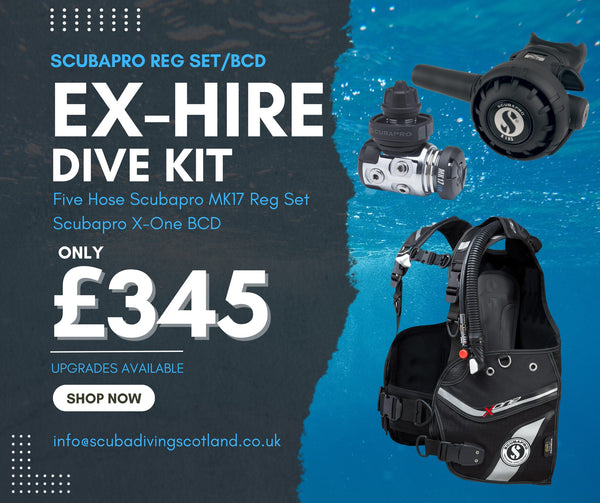 Description
Scuba Diving Scotland Ex Hire Advanced Regulator & BCD Set
*All items come fully serviced
RRP £1150.00     OVER 70% OFF RRP     Ex Hire Price from £345!  
Get yourself kitted out with our excellent Ex-Hire BCD and Regulator sets! 

STARTING PRICE: £345.00
Package consists of Scubapro MK17 1st Stage, 2nd Stage, Octopus, Single SPG Gauge with BCD & Drysuit LP Hoses.   Scubapro Ex Hire BCD or equivalent.  Various Sizes.  Upgrades Available.  The Regulator Set comes fully serviced and the BCD has been fully tested.  All items can be viewed in Scuba Diving Scotland before purchase. 


*Double gauge and triple gauge set ups available (+£25 for double +£50 for triple)
Ex-hire masks and fins also available upon request.

Enquire today:
Email info@scubadivingscotland.co.uk
Tel - 0800 228 9099
* Please note, there are no returns on this item.
** This items comes with a 3 month Warranty.  This covers any manufacturer defect and does not cover user error.