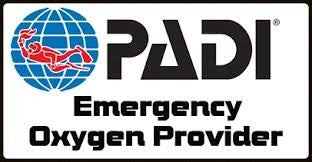 Description
PADI Emergency 02 Provider Course - Class Session Only
Who should take this course?
Knowing how and when to use emergency oxygen is a great skill to have and means you're ready to help others should the need arise. Becoming a PADI Emergency Oxygen Provider lets you breathe easy knowing that you can recognize scuba diving illnesses treatable with emergency oxygen, and are prepared to offer aid.
There are no prerequisites, age restrictions or water sessions required for this course – it's open to everyone. Scuba divers, snorkelers and anyone who is around divers – boat crew, lifeguards, etc. – will benefit from having this training.
What will you learn?
You'll learn about dive injuries, different types of emergency oxygen equipment and safety considerations when using oxygen. Then you'll practice:
Assembling and disassembling emergency oxygen equipment.
Deploying a non-rebreather mask and a demand inhalator valve on a breathing diver.
Using a pocket mask on a nonbreathing diver.
How can you start learning now?
Visit your local PADI Dive Center and Resort to enroll in the course and get your PADI Emergency Oxygen Provider Manual. Read the manual before class as directed by your instructor in preparation for skill practice.
What gear will you use?
Your PADI Instructor will have emergency oxygen units available to use for training and your local dive center can help you purchase your own unit for use after the class. You'll also need to have a disposable non-rebreather mask to use during practice sessions, which your instructor can help provide.
Next Step
Be oxygen savvy and earn this important certification:
Course T&C's
Please Note: All course fee's are non-refundable or transferrable.  Please read the full course T&C's on the course schedules before purchasing.  All courses must be used within 1 year of purchase.  Minimum of 48 hours notice required to reschedule course dates.  By purchasing online you agree to the course T&C's.
SCHEDULING A COURSE 
Course dates can be found below.  However, a schedule can be created around your availability if you have two or more people attending.  
Email info@scubadivingscotland.co.uk for more details.  
SCUBA DIVING SCOTLAND
* Executive course schedules can be created for a date and time to suit for bookings of two or more students.  Contact SDS for more info and availability.