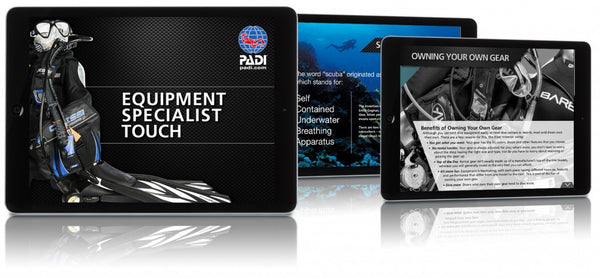 Description
As a scuba diver, you already know that diving is an equipment-intensive activity. From accessories such as dive lights and underwater cameras, to essential gear like exposure suits, cylinders and regulators, there's a lot to wrap your head around.
Unfortunately, many divers are reluctant to learn more about their equipment because they feel they're not 'mechanically inclined'. But here's the good news: you don't need a degree in engineering to understand how scuba equipment works; the Equipment Specialist Touch will help you to understand how (and why) certain pieces of scuba equipment work.
The PADI Equipment Specialist Touch is a fully interactive and comprehensive digital product for iOS and Android tablet devices. This valuable tool provides a beautifully immersive look into scuba equipment through short video clips and 3D rotating images to help you get a more realistic insight into how things work.
"The PADI Equipment Specialist Touch gives you a completely different way of learning and you are able to see how equipment is made or how every part fits together for the end product we all use. I really enjoyed the pictures with the explanations and then seeing the assembly of the parts (such as the cylinder valve section) which gives you a clear visual representation of how it fits together.

There are really good examples of this all the way through the speciality and the cylinder section is amazing – especially the aluminium cylinder manufacturing! It also allows you a greater understanding of why and how equipment could fail and re-affirms the essential need for regular equipment servicing." – Anna New

Whether you plan to invest in your own gear, or just want to learn a bit more about it in general, the PADI Equipment Specialist Touch will teach the benefits of owning your own equipment, how to choose it and apply it best across various scenarios, and considerations on care after you've invested in your equipment.

"Being able to see the item come apart puts the written parts of the course into perspective in my mind and thus making the learning easier. Now that I can see what goes into the servicing of the dive gear I can now make a MUCH more informed decision with gear purchases in the future." – Justin Binda


The PADI Equipment Specialist Touch is available as part of the PADI Equipment Specialist course. As part of this course you'll learn about routine care and maintenance as well as scuba equipment storage recommendations. Your instructor will show you how to overcome some common equipment problems and offer equipment configuration suggestions. You may even get to jump into the water to try new or unfamiliar equipment for the first time with the assistance of a PADI Pro.

To purchase your own copy of the PADI Equipment Specialist Touch just click on the link to pay and we'll send you your download code.