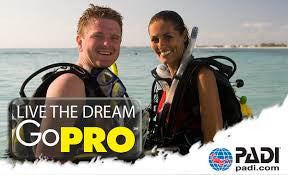 Description
The PADI 'Instructor Specialities For Life' Promotion is a fantastic deal offered by SCUBA DIVING SCOTLAND.  This is an offer for instructor candidates that take part in one of our PADI IDC's.  During this IDC our Course Director will teach you up to 5 PADI Instructor Specialities to give you a head start in your diving profession.  Once you become a PADI Instructor you then get FREE* training by the Course Director for any other Instructor Specialities you wish.
It's an incredible offer and will increase your qualifications at a fraction of the standard method of PADI Speciality Instructor Application.
If you are interested and wish to discuss the finer details then just give SCUBA DIVING SCOTLAND a call or email and we'll be able to help.
FREE Training - The Course Director will teach you any further PADI Instructor Specialities you wish outwith your IDC.  All you need to do is meet up with him and work through the required performance requirements to be signed off.  There's no further cost for this training and you only need your materials and PADI Fees once complete.  Standard PADI Speciality Instructor Fee is £64 + VAT and via the Course Director trained option it is only £32 + VAT. (As of 2020 PADI Membership Prices)
Course T&C's
Please Note: All course fee's are non-refundable or transferrable.  PADI Professional course prices only include tuition.  They do not include kit hire, air fills, PADI materials or PADI application fees.  Please read the full course T&C's on the course schedules and complete the PADI Medical Form before signing up.  By purchasing online you agree to the course T&C's. 
SCUBA DIVING SCOTLAND - PADI Instructor 2020 Course Schedules
- PADI Instructor Course Schedule - March 2020