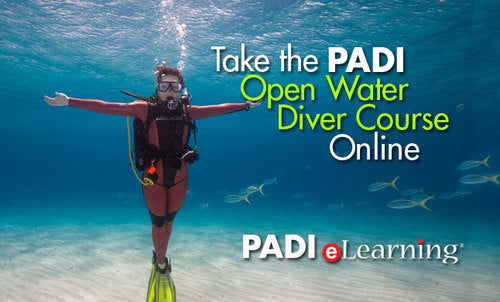 Description
PADI Open Water Course - eLearning Option
Why choose the eLearning Option?
PADI eLearning can a great option for students that wish to complete the required theory work in the comfort of your own home and in your own time.  You'll still need to do a class session to do the course induction, fill in paperwork, and sit your final exam.  For this reason, we still recommend that you come along the first class session on the Open Water schedule.  This way you can also meet your fellow students on the course and we can answer any questions you may have.  The PADI eLearning option is £70 more expensive than the standard course at £565 and includes everything you require for the course including the online materials, kit hire, tuition and final certification. 
Who should take this course?
If you've always wanted to take scuba diving lessons, experience unparalleled adventure and see the world beneath the waves, this is where it starts. Get your scuba diving certification with the PADI Open Water Diver course through SCUBA DIVING SCOTLAND – the world's most popular and widely recognised scuba course. Millions of people have learned to scuba dive and gone on to discover the wonders of the aquatic world through this course. To enrol in a PADI Open Water Diver course (or Junior Open Water Diver course) with SCUBA DIVING SCOTLAND, you must be at least 12 years old or older. You need adequate swimming skills and need to be in good physical health. No prior experience with scuba diving is required.  If you are under 16 years old we may be restricted on what courses we can teach due to the child's capabilities or due to the size and fitting of the Drysuits for Open Water dives.
What will you learn?
The PADI Open Water Diver course consists of three main phases:
Knowledge Development ( online, independent study or in a classroom) to understand basic principles of scuba diving
Confined Water Dives to learn basic scuba skills
Open Water Dives to use your skills and explore!
You may be able to get college credit in some countries outside of the UK for the Open Water Diver course.
Short on time? The  PADI Scuba Diver course might be right for you.
How can you start learning now?
Enrol in Open Water Diver Online – PADI's eLearning option – and you can start learning right away. PADI Open Water Diver Online gives you the background information you need to dive safely and allows you to study at your own pace through an interactive computer-based program. Get started now!
You can also start learning with PADI's home-study materials – Open Water Diver TouchTM (a tablet app) or the Open Water Diver Manual and Open Water Diver Video (a book and DVD package). Stop by your local PADI dive shop to enroll in the course, get your materials and start reading the book and watching the video. Your PADI Instructor will schedule time with you to check your progress and make sure you understand important scuba diving information.
What scuba gear will you use?
In the PADI Open Water Diver course, you learn to use basic scuba gear, including a mask, snorkel, fins, regulator, buoyancy control device and a tank. The equipment you wear varies, depending upon whether you're diving in tropical, temperate or cold water.  However, in Scotland we generally wear a Drysuit with undersuit for the Open Water dives.
Check with your Instructor at SCUBA DIVING SCOTLAND about the gear you'll use during this course and get advice regarding buying your own equipment.
Next Step
Breathing underwater for the first time is something you'll never forget, so don't wait.
Course T&C's
Please Note: All course fee's are non-refundable or transferrable.  Once you book on a course your place is secured and there will be a charge if you wish to move to another course schedule.  Please read the full course T&C's on the course schedules and complete the PADI Medical Form before signing up.  For any participants under the age of 18, there must be a parent or guardian present during any sessions to comply with our Child Protection Policy. By purchasing the course online you agree to the course Terms and Conditions.  
SCUBA DIVING SCOTLAND - PADI Open Water 2020 Course Schedules 
- PADI Open Water Course Schedule - January  2020
- PADI Open Water Course Schedule - February  2020
- PADI Open Water Course Schedule - March 2020
- PADI Open Water Course Schedule - April 2020
- PADI Open Water Course Schedule - May 2020 
- PADI Open Water Course Schedule - June  2020
- PADI Open Water Course Schedule - July 2020
- PADI Open Water Course Schedule - August 2020 
- PADI Open Water Course Schedule - September 2020 
- PADI Open Water Course Schedule - October 2020
- PADI Open Water Course Schedule - November 2020