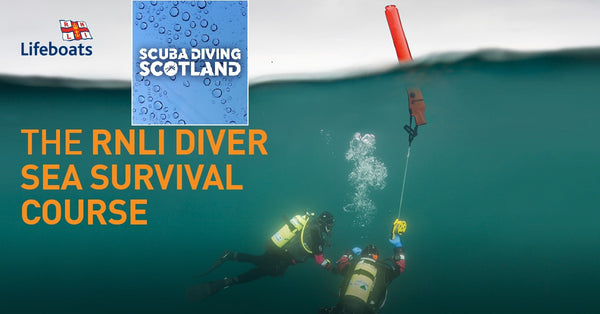 Description
IF YOU'RE IN DANGER AT SEA, KNOWING WHAT TO DO CAN MAKE THE DIFFERENCE BETWEEN LIFE AND DEATH. YOU COULD BE RESCUED MORE QUICKLY OR MAY NOT EVEN NEED RESCUING IF YOU HAVE THE RIGHT DIVING SURVIVAL SKILLS AND KIT.
SCUBA DIVING SCOTLAND is one of the few Dive Centres in the UK that offer this course and we do so in conjunction with the RNLI Lifeboat Station in Helensburgh, Scotland.  Our Instructor that teaches the course is Ken Miller a PADI Master Scuba Diver Trainer, Dive Team member with SCUBA DIVING SCOTLAND and a Helmsman with the RNLI.  This gives a unique insight into the course and an ideal platform to learn from an experienced RNLI member and PADI Professional Dive Instructor. 
     Instructor Ken Miller - RNLI Crew Image
The Royal National Lifeboat Institute (RNLI) in conjunction with PADI have produced this exciting course aimed at helping divers increase their knowledge of sea diving.
Sometimes thought of as the "fourth emergency service" for their amazing marine rescue skills, the RNLI are also proactive in increasing diver awareness of potential problems and teaching how to prevent or deal with problems that do occur. The RNLI Sea Survival Diver course refreshes some skills, adapts others to the marine environment and introduces you to surface safety from the point of view of the rescuers. 
The knowledge development is short and interactive with the focus on two dives practising skills both at the surface and underwater.
Age Range
Aged 12 and above
Prerequisites
PADI Open Water Diver or PADI Junior Open Water Diver - Or equivalent from another dive agency.
PADI Drysiut Speciality Diver - Or equivalent from another dive agency.
Must have been diving in the last 6 months or you will require a Scuba Review.
Schedule
- 1 Day Course
* 1 Class session for 2 1/2 hours at RNLI Lifeboat Station in Helensburgh.
*  2 Open Water Dives 
Price
£155.
Video
https://www.youtube.com/watch?v=jZ-Hvo6Pihk
This includes a donation to the RNLI in Helensburgh and your PADI certification fee.  It does not include any scuba diving equipment rental.   You are required to bring all necessary diving equipment as well as an SMB and reel for your open water dives.
SCHEDULED COURSES 2020
- PADI RNLI Diver Sea Survival Speciality Course - 25th January 2020