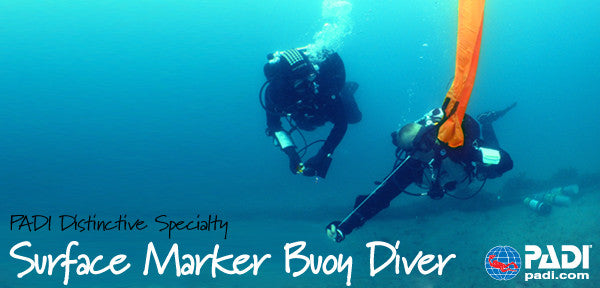 Description
Whether you're planning on coastal diving here in the UK or on your holiday, having a Surface Marker Buoy (SMB) will increase your safety and comfort and will alert boat traffic and other divers to your location.

If you're ever involved in drift diving from a boat then a delayed SMB will allow your boat skipper to follow your dive and pick you up promptly upon surfacing. They are also a great visual reference on your ascents too.

The PADI SMB specialty course will teach you the safest and easiest techniques to efficiently deploy a delayed SMB whilst static underwater and also whilst swimming.
What do I need to start?
You will need an SMB and reel
What will I do?
The course consists of 2 open water dives which will cover:

-Why use a DSMB / SMB?
-Tides and currents
-Types of Surface Marker Buoys
-Types of reels
-Methods of delayed SMB deployment
-Risks and hazards of SMB use
-Preparing the delayed SMB for use
How long will it take?
The course consists of two open water dives.
What will I need?
Students must be certified as a PADI Open Water Diver, PADI Junior Open Water Diver or have a qualifying certification from another training organization.
Minimum age is 12.
Where can I go from here?
Now that you have mastered the use of a SMB, why not put these skills to good use by enrolling on the PADI Drift Diver Specialty course. It is essential during drift dives that your boat skipper knows your location and can follow your dive for a speedy surface pick up.

If you have completed 5 PADI Specialties & the PADI Rescue Diver course and have 50 logged dives, you qualify to register as a PADI Master Scuba Diver, the highest non-professional diver rating within PADI.
* CANCELLATIONS - Please note, once you book and pay for a course no refunds will be given for any cancellations.  By purchasing online you agree to the course T&C's.