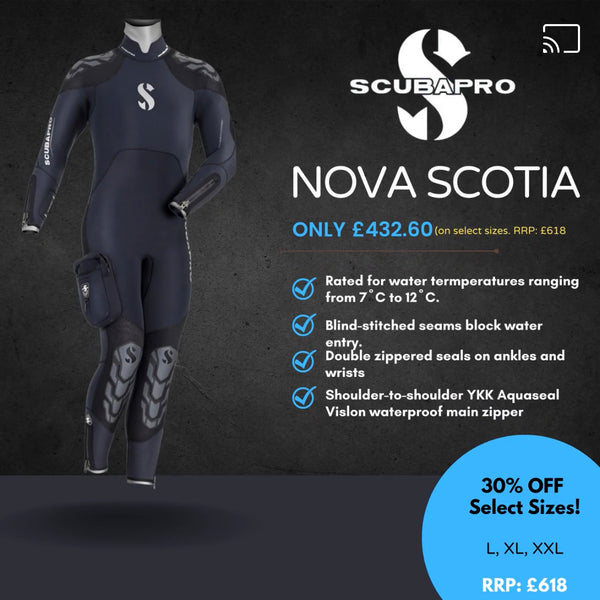 Description
Scubapro Nova Scotia 7.5mm Semi-Dry Wetsuit Ex Demo - Gents Large
*Suits have only been sed for 2-4 dives each - Available in limited Gents Sizes)
RRP £618      30% OFF RRP     Ex Demo Price £432.60!  
The Scubapro Nova-Scotia 7.5mm Semi Drysuit is one of the few truly semi-dry wetsuits on the market today. Many wetsuits like the Waterproof W4 are sometimes mistaken for semi-dry's, but strictly speaking this is not the case due to the zip. To be a real semi-dry dive wetsuit it has to have a dry Zip - thus allowing no water to get in through this area.
Normally this feature can add hundreds of pounds to a wetsuit but the Scubapro Nova Scotia still comes in at around the same price as a premium wetsuit! And perfectly warm for temperatures down to 7 Celsius -this suit is ideal for diving in Britain!
The Scubapro Nova Scotia semi-dry suits are made of Everflex neoprene making it extremely comfortable and easy to put on. It is a low profile suit with good sealing and cold protection- eliminates the need for bulky undergarments. The YKK Aquaseal Vislon dry zipper provides an even better dry seal against cold water entry and offers a lot more comfort and movement freedom.
The new right leg pocket has an exterior hood hook and a large interior D-ring for total convenience.
Please note - the Nova-Scotia runs small and customers typically need a suit 1-1.5 sizes larger than normal.
We're bringing our highly experienced and knowledgeable staff to you with live streaming consultations. If you need help choosing the right bit of kit or the best size before buying or even advice on whether a purchased item is the right fit for you then book yourself a consultation appointment.
Features
CE certified a Class A dive suit -- rated for water temperatures ranging from 45F (7C ) to 54F (12C).
New 7.5/6.5mm suit is made of 100% Everflex neoprene, an X-Foam formulation for better health, and it is assembled using eco-friendly solvent-free Aqua glue.
Pure Design Concept uses fewer seams and panels to ensure maximum flexibility.
Blind-stitched seams block water entry.
Internal stress discs installed at stitch intersections protect seams, extending the suit's working life.
Rear shoulder-to-shoulder YKK Aquaseal Vislon dry main zipper with heavy-duty plastic slider is flexible yet provides an excellent seal against water entry.
New plush interior liner in the arms, legs and shoulder areas increases warmth and stretch.
Double zippered seals on ankles and wrists feature KA brass sliders for durability, water-tightness and ease of use.
Fold-under neck seal is ultra-comfortable and keeps water seepage to a minimum.
Right thigh 3D pocket offers lots of room for carrying extra gear. The hood hook has been moved to the outside of the pocket for added convenience.
Shoulders and kneepads feature both anti-abrasion patterns and extra rubber prints to provide protection while adding a stylish look.
Enhanced spine pad provides a welcomed cushion where the tank hits the diver's back.
I-Safe straps on both arms offer non-slip mounting spots for securing wrist instruments.
* Please note, there are no returns on this item.
** This items comes with a full 1 Year Manufacturer Warranty.  This covers any manufacturer defect and does not cover user error.