PADI Enriched Air Nirtox Specialty Course - 6th October 2018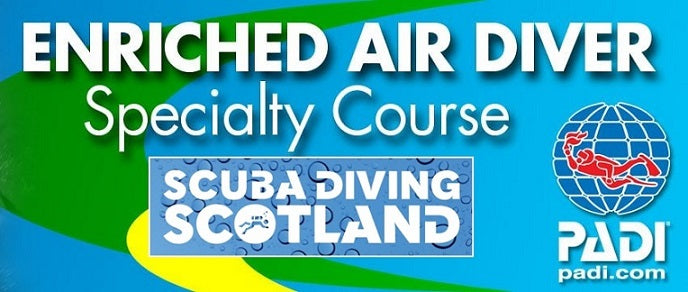 PADI Enriched Air Nirtox Specialty Course - 6th October 2018 
The PADI Enriched Air Nitrox Specialty course is one of PADI's most popular scuba diving specialty courses. Scuba diving with Enriched Air/ Nitrox can significantly increase your dive time at depths between 18 to 30 metres and is almost essential for UK divers as well as those who dive frequently abroad.
REQUIREMENTS
Read your PADI Enriched Air Diving manual
Complete 2 Knowledge Reviews
Watch the Enriched Air DVD
COMPLETION
You will receive your Enriched Air certification card which allows you to dive with Nitrox up to 40%.
PREREQUISITES
PADI Open Water Diver or equivalent
Minimum 12 years of age
LOCATION
At Aquatron Dive Centre - G41 1JB - Classroom 2
COST
£85
- Just follow the link to book and pay - https://www.scubadivingscotland.co.uk/…/padi-eanx-enriched-…
INCLUDES
Personal PADI Enriched Air Diving manual and dive computer simulator 
3 hour classroom theory session.
DURATION
- Saturday 6th October 2018 - 1:30pm - 4:30pm at Aquatron Classroom.
NOTE - We can also run the PADI Enriched Air Nitrox course at a location of your choice for a minimum of 2 students booked in advance over 1 half day or 1 evening.
Please contact us for more information or if you have any questions.
Hope you can make it!
SCUBA DIVING SCOTLAND
Tel - 0800 228 9099 
Email - info@scubadivingscotland.co.uk. 
Website - www.scubadivingscotland.co.uk