PADI Equipment Specialist Course - 1st July 2019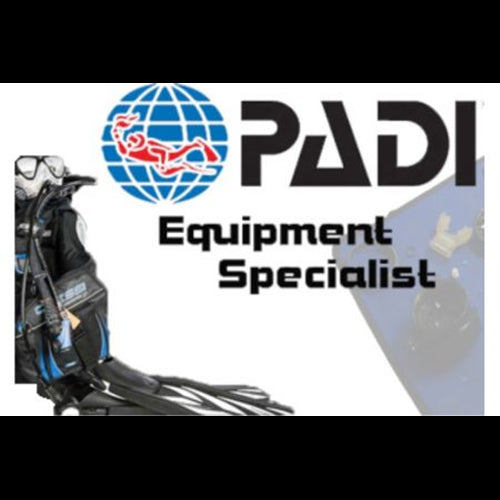 Whether it's a blown o-ring, regulator problem, wetsuit tear or a broken fin strap, you can learn how to manage basic scuba equipment adjustments.
As a PADI Equipment Specialist, you are prepared for the basic scuba equipment maintenance, care and adjustments you'll encounter every day. In addition, you'll learn interesting background information about how your gear works, how it's repair and other information that helps you with your equipment investment.
Date - Monday 1st July - 6:15pm to 9:30pm
Location - Scuba Diving Scotland Classroom, Pinkston Watersports, 75 North Canal Bank Street, G4 9XP.
Course Preparation - There is no manual, Knowledge Reviews or work required before the course. You can bring any of your diving equipment with questions on how to clean, maintain, etc. Please also feel free to bring any broken or damaged equipment so we can discuss proper care procedures and potential issues.
You will learn about;
Routine, recommended care and maintenance procedures
Equipment storage
Overcoming common problems with equipment
Recommended professional maintenance procedures
Who can take this course?
To enrol in this course, you must be a PADI Scuba Diver (or qualifying certification from another training organisation) and at least 10 years old.
If you don't meet these minimum requirements then we can put together a package which will include them for you, contact us for more information.
How long is the course?
This non-diving course takes a few hours to complete over one evening .
What's included?
The course includes all the elements required for completion: internationally recognised PADI Equipment Specialist certification card, full equipment use and, high quality instruction from experienced and qualified instructors.
What's Not Included?
PADI Equipment Specialist Touch is an optional extra for only £50 -
https://scuba-diving-scotland.myshopify.com/products/padi-equipment-touch?variant=34987095235
How much does it cost?
The PADI Equipment Specialist course is £85.
How do I book?
Ready to book now? With SCUBA DIVING SCOTLAND you can book and pay online -
Website Link -
https://bit.ly/2EZiJXE
Thank you and if you have any questions please feel free to contact us.
SCUBA DIVING SCOTLAND
Tel - 0800 228 9099
Email - info@scubadivingscotland.co.uk.
Website -
www.scubadivingscotland.co.uk