SCUBA DIVING SCOTLAND - Meet The Dive Team Ken Miller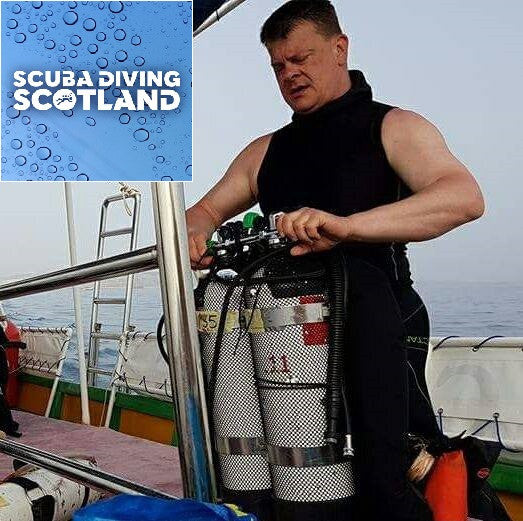 Meet The Dive Team at SCUBA DIVING SCOTLAND
- Ken Miller
One of the main reasons for SCUBA DIVING SCOTLAND's continued success has been the fantastic Dive Team. We'd like you to meet the team and we'll be posting a 'Meet The Staff Profile' now and again so you get to know them better. One of the Dive Team that keeps us all entertained at the dive sites is Ken Miller. He's an amazing addition to the team at SCUBA DIVING SCOTLAND and together with his better half, Denise Miller, help make diving fun and unforgettable!
1.) What is your name and highest diving qualification?
Ken 'The Joker' Miller - Master Scuba Diver trainer (MSDT) and TecRec
2.) When did you start diving?
Started at eighteen
3.) How long have you been diving in Scotland and what's your favourite dive site?
Since I was eighteen so only a few years. My favourite dive site is The Slates at Ballachulish, the visibility and wildlife are amazing.
4.) What was your favourite PADI course?
Either Deep or Twin Set Speciality.
5.) What made you want to become a dive professional?
Insanity, my psychiatrist recommended it!! But honestly, its very rewarding especially shaking the hand of a newly qualified diver underwater and seeing their face when they now know they've passed the course.
6.) What's your favourite or funniest diving story?
I've dived with Phil George many times, so too many to mention.
7.) What's your future dive plans - holidays, courses, etc?
Future holidays to Malta etc, and thinking of doing the TecRec instructor.
8.) Any additional information or comments you'd like to add - keep it clean!
I've been crew/helm of Helensburgh lifeboat RNLI for nearly 30 years, so tend to be safety conscious, but still able to have fun and a laugh. My jokes like my work are shocking.
Huge thank you to Ken for all his help with SCUBA DIVING SCOTLAND and hopefully you'll see him on one of your courses soon
(Y)
:D