SDS ADVENT CALENDAR 13th December 2019 – 40% OFF Tovatec Fusion 1050 Torch Video Light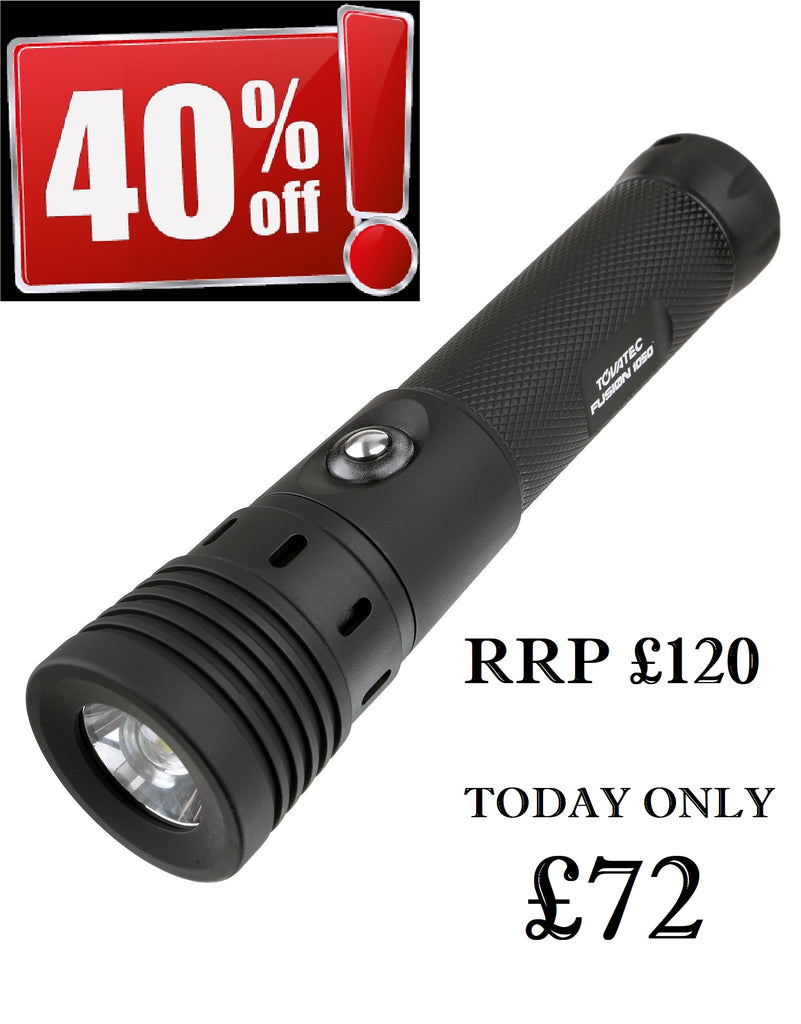 SDS ADVENT CALENDAR 13th December 2019 – 40% OFF Tovatec Fusion 1050 Torch Video Light
Great stocking filler for any diver!  Limited Stock Available!
Tovatec Fusion 1050 Torch Video Light  - RRP £120.   Advent Calendar Deal 40% OFF = £72.00
Tovatec Fusion 1050 Torch
The Fusion 1050 provides an amazing amount of light for any dive whether you are diving on a wreck, in a cave or just drifting along a reef. Put the light in video mode by simply attaching your light to one of our camera tray arms, then sliding your lens to 100° beam angle.
Accepts either AA alkaline batteries (not included) or lithium-ion rechargeable battery.
Includes lanyard, 18650 Li-ion battery, charger, USB cable and padded case.

LIGHT SPECS
Light Output : 1050 lumen
Beam Angle : Adjustable 12  » 100
Multi-function : Yes...
100% . 50% . 30% . strobe
Color Temp : 5600-6600K
PHYSICS
Weight : 9.24 oz. (without battery)
Size : 6.8" length x 1.7" diameter
Switch : Colour indication charge switch
Depth Rating : 328ft / 100m
POWER
Rechargeable Battery : 18650 Li-ion
Burn Time @ 100% : 2h
Optional Battery : 3x AA alkaline
Burn Time @ 100% : 2h 30min
Follow this link to our website to redeem.  Use the link below or Discount Code FB13 for your 40% OFF
Tovatec Fusion 1050 Torch Video - https://bit.ly/2LRNP75
Please quote this advert or FB13 when purchasing this offer. Deals are only available on the day of the offer in shop or online. All deals are subject to availability and cannot be used in conjunction with any other offer. SDS reserve the right to withdraw the deal at any time. Other T&C's may apply.