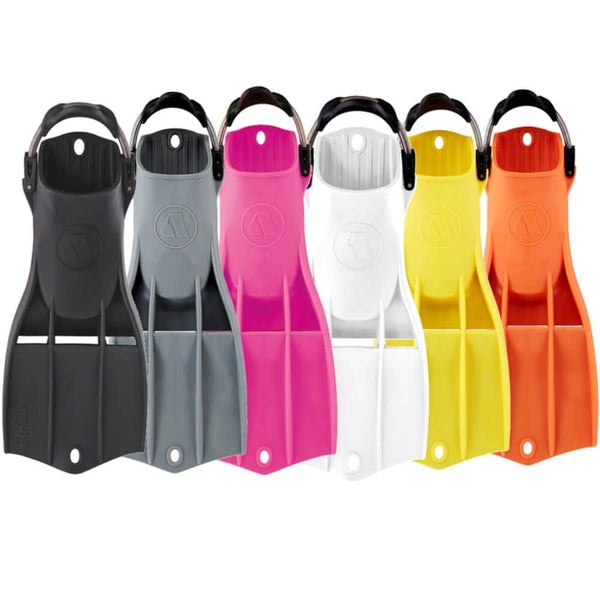 Description
The Apeks RK-3 traditional all rubber design has been the standard for Coast Guard, Special Ops, Military and Public Safety Divers for decades.
The blade material is developed to hold up in the harshest environments, temperatures, and bear the worst abuse. The short wide blade provides maximum forward thrust while it maintains great manoeuvrability. The vented blade design reduces resistance on the upstroke and enhances thrust on the downstroke.
The fins come standard with high-quality stainless steel spring straps.
Comes in three sizes; Medium, Large and Super.
Features
Traditional all-rubber design provides excellent performance
Come standard with stainless steel spring straps
Custom designed buckle holds spring straps in optimum position
Custom buckle is attached with stainless steel nut and bolt
Short wide blade provides maximum forward thrust while maintaining great manoeuvrability.
Vented blade design reduces resistance on the upstroke and enhances thrust on the downstroke
Two large grommet holes on either end are designed to fit most carabiners
3 sizes available: Medium, Large & Super
Specifications
Fin Material
Thermoplastic Rubber
Dimensions
Medium - 19.15in L x 9in W
Large - 21.5in L x 9.5in W
Super - 22.5 in L x 9.5in W
Weight
Medium w/ Spring Straps - 2.25 lbs
Large w/ Spring Straps - 2.75 lbs
Super w/ Spring Straps - 2.75 lbs
Buoyancy
All Sizes with Spring Strap - Slightly Positive
Buckle Attachment
316 stainless steel nut and bolt
Foot pocket
Open heel design
Spring straps
Yes
Vents
Yes
Use this size guide to choose the most appropriate size for your Apeks Fins
Boot Style
Medium
Large
Super
Soft Sole
UK 5 - 7

UK 

7 - 10

UK 

9 - 13
Hard Sole

UK 

4 - 6

UK 

7 - 9

UK 

9 - 13
Drysuit Boot

UK 

4 - 5

UK 

6 - 8

UK 

9 - 12