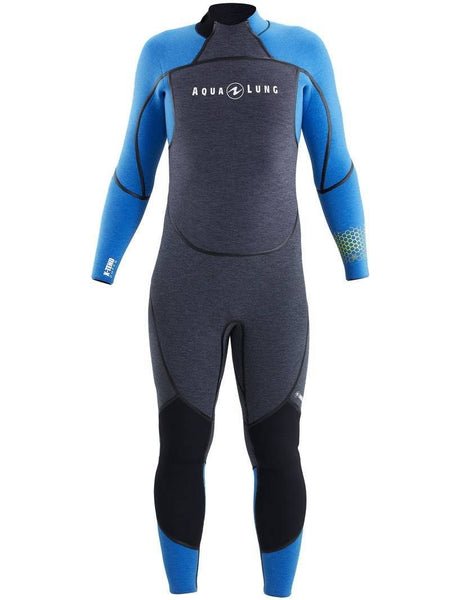 Description
Aqualung AquaFlex 5mm Wetsuit
The Aqua Lung Aqua Flex 5mm Wetsuit is one the most flexible wetsuits on the market and has extremely soft super stretchy 5mm neoprene. The stretchy neoprene and liquid seams mean that you stay warm and the suit moves with you.
The "AquaFlex" neoprene has three times the stretch compared to standard neoprene which makes this suit easy to put on and take off. The seams are sealed with liquid rubber which makes them durable against unravelling and stops water and heat from leaking through.
Key Benefits
5mm AquaFlex Neoprene

 

- The Aqua Lung Aqua Flex 5mm wetsuit is made from 5mm AquaFlex neoprene. This is the base thickness of the neoprene layer before the nylon outer and inner layers are added. There is AquaFlex neoprene material is 4-way high stretch neoprene used throughout.
Nylon Material

 

- The outer nylon material is resistant to abrasions and hook-and-loop materials due to the tighter weave. This keeps the suit looking good and functioning well. The inner material is also ultra-soft, making these suits easy to don and doff.
Skin-in-neck Seal

 

- This wetsuit includes a skin-in-neck seal which gives a more comfortable stretch and seals out water.
Seams

 

- There is liquid Fusion Technology that enhances the durability and integrity of the seams. The Liquid rubber seams prevent water transfer and unravelling.
Zipper

 

- The Aqua Lung Aqua Flex 5mm wetsuit has a three-way zipper seal which minimise water entry to maintain warmth. This wetsuit features a back zipper for the diver to easily get in and out of the suit. The zipper included is high quality and very durable.
Thermal Material

 

- This wetsuit has internal thermal chest and back material which keeps warmth at the body's core. There is also kidney pads for additional insulation in this high heat loss area.
Silicone Print

 

- The Aqua Lung Aqua Flex 5mm wetsuit has silicone print on the wrist which acts as a traction pad for wrist computers.
Pads

 

- On multiple areas on this wetsuit there are ultra stretchy pads for protection, this includes knee pads, wrist and ankles. There are also pre-bent anatomic legs and arms for comfort.
Who is Aqualung Aqua Flex 5mm Wetsuit for?
The Aqua Lung Aqua Flex 5mm wetsuit is ideal for those looking for a wetsuit that is suitable for moderate water temperature. Thanks to the 5mm high quality neoprene this wetsuit will protect you when diving in moderate temperatures and will keep you comfortable. This wetsuit has a back zipper which makes this wetsuit easy to put on and take off. The Aqua Lung Aqua Flex 5mm Wetsuit can give you protection and is perfect for moderate water, using this wetsuit to dive deep into the ocean would give you an incredible amount of comfort and is long-lasting thanks to the great material used.
Who are Aqualung?
Aqua Lung introduced the world to Scuba diving equipment more than 60 years ago. Aqua Lung manufactures good quality Scuba diving equipment including regulators, masks and high-performance torches. They pride themselves in making diving equipment which allows divers to explore the ocean safely and make memorable moments.