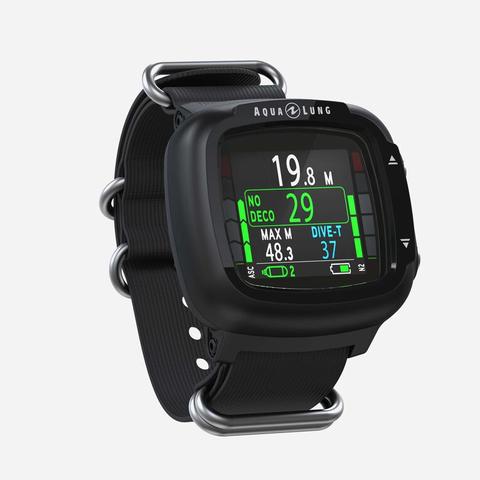 Description
Aqualung i330R Dive Computer
The AquaLung i330r Dive Computer
is a rechargeable, colour screen dive computer for recreational scuba diving. The colourful IPS display on the i330r is easy to understand at a glance and even in bright sunlight. Factory sealed, the internal battery can be topped up at any time and dives can be downloaded to your phone or tablet by Bluetooth.
Bright Colour IPS Display
typically has better colour and viewing angles compared to other display types, so that you can see the screen at more acute angles. The colour-coded information intuitively lets you know when everything is OK, or draws your attention to information that may need your attention by changing colour.
Rechargeable Battery
inside the i330r can be topped up at any time so you never need to worry about bringing spare batteries or O-Rings or missing a dive, you just top up the battery as you need to between dives.
NATO Strap
is strong and secure and will last much longer than many other materials. Similar to a normal watch strap the NATO strap on the i330r is made from a fabric webbing that is comfortable and secure, threading all the way under the computer body so it stays exactly where you want it.
Features:
Ultra-Bright IPS Display
Intuitive 2-Button UI
24 Dive Memory
Air, Nitrox, Gauge, Apnea Modes
3-Gas 21-100% O2
Rechargeable Battery
Adjustable Brightness
Download Software Updates (optional cable required)
Bluetooth 5.0
NATO Strap
Air Integration
No
Algorithm
Z+
Apnea Mode
Yes
Connectivity
Bluetooth
USB (not included)
Dive Computer Style
Wrist
Dive Type
Freedive
Scuba
Diving Depth
100.00 m
Gas Nitrox
21 to 100
Gas Trimix
No
Integrated Compass
No
Rebreather Mode
No
User Changeable Battery
No, Rechargeable
Watch Strap
NATO Webbing