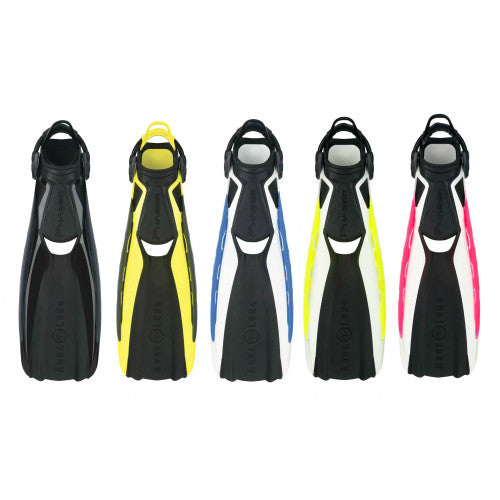 Description
Aqua Lung Phazer Fin
The Aqua Lung Phazer Fin brings a host of Aqua Lung technologies together to create an incredible set of fins. Their new Wave Rib technology ensures every ounce of energy you put into your kicks works with the wave shape of the blade for total efficiency and power.
The blade is uses a tri-material construction allowing the Phazer to be as rigid or flexible as it needs to be in the right places for maximum effectiveness and power. A hydro-power channel helps water flow through the blade for improved thrust and forward moment. The bungee strap on the heel is robust and makes putting and taking off the fins easy.
Available in a selection of colours the Aqua Lung Phazer is easy to match up with the rest of your gear, so it looks great.
Key Benefits
Wave Rib Technology

 

- The revolutionary side ribs are the heart of the Phazer. The elastomeric rubber sections of the ribs work together with the wave-shaped structures, accumulating (loading) the energy of every kick that is released during the kick cycle. The effect is a solid, powerful yet easy kick, suitable for beginners as well as for expert divers.
Tri-material Blade Construction

 

-

 

Aqua Lung's Tri-material construction ensures the blades provide the ideal balance between rigidity and flexibility to give you the optimal characteristics for efficient kicking.
Hydro Power Channel

 

- The Phazer features a channel in front of the pocket. As you kick, water flows through the blade, improving efficiency and stability.
Comfortable To Wear

 

- Equipped with their new bungee strap and heel-pad the Phazer Fins are easy to take on and off and extremely comfortable when you're wearing them.
Tough Construction

 

- The Phazer fin is made of top-quality materials for a highly durable fin that will last years of diving.
Non-Slip Sole

 

- The sole features grippy rubberised tread so you don't slip over walking on boat decks or around the dive site.
Who is the Aqua Lung Phazer Fin for?
Perfect for both beginners and professionals the Phazer is both forgiving if your technique isn't perfect yet able to push out impressive levels of thrust and efficiency if you're a technical kicker.
Made to Aqua Lung's no-compromise standard this is a fantastic fin suitable for a wide variety of scenarios, be it cold or warm water diving.