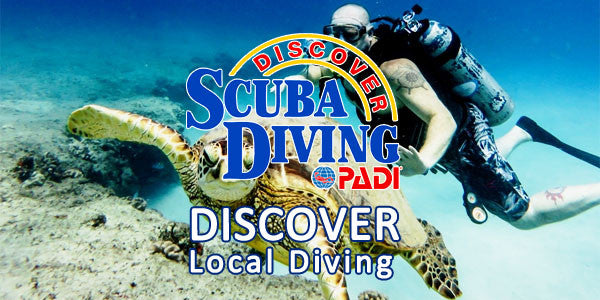 Description
PADI Discover Local Diving
SCUBA DIVING SCOTLAND love nothing more than scuba diving for fun!
We are out almost every Sunday and occasional Saturdays and weekdays diving around Scotland.  Discover Local Diving days cover two dives and includes all the standard diving kit hire you require.  It is led by a PADI Professional Dive Team member that will conduct a pre-dive briefing and then provide a guided tour of the dive site.  They can also be on hand to help you with and diving or equipment advice.  We also provide full shore cover with spare and emergency equipment if needed to meet all Health & Safety requirements.
If you would like to sign up for a DLD - Discover Local Diving then click on the link to pay and let us know the desired date in the notes field.  Please also note any kit you need with the sizes you require when booking.
Who should take this program?
You may remember your PADI Instructor saying, "If you travel to a new location or visit an unfamiliar dive environment, get a local orientation." Its good advice and easy to do. Just ask the local PADI dive shop for a Discover Local Diving experience. Scuba diving with an experienced local dive professional lets you relax and better enjoy the adventure.
Any certified diver who is Drysuit qualified, having dived in the last 6 months, and wants to dive in a new area or environment.   Please note if you require the PADI Drysuit Speciality or a Scuba Review you can click on the links for more information. 
For example, if all your diving has been in warm water on coral reefs and you travel to an area with cooler water and kelp forests, Discover Local Diving is for you.
Or, if the majority of your experience is from dive boats, and you have the chance to do a shore dive with an entry through mild surf, sign up for a Discover Local Diving experience.
What will you learn?
Your experienced PADI Pro will brief you on the dive site conditions, hazards and points of interest, plus describe the aquatic life you'll see and how to interact responsibly with local creatures. If there are special procedures or techniques used locally, your dive professional will show you what to do to make your scuba dive fun and hassle free.
If you feel like you need a refresher before the dive, ask about doing a Scuba Review.
What gear will you use?
You'll need basic scuba gear, including a mask, snorkel, fins, regulator, buoyancy control device, dive computer and a scuba tank. The exposure protection you use will depend on the environment you'll visit. Your SCUBA DIVING SCOTLAND Dive Team will explain any other equipment you should have.
Next Step
Dive in with a Scuba Review or Discover Local Diving:
Booking & Cancellations T&C's
 - All bookings are valid for one year from the purchase date.  To book you can email or call to check availability then pay to confirm if not already done so.  Please note that bookings are not confirmed until payment has been made.  You'll receive a confirmation email with the details of your session.
- If you need to cancel at any time please email or call as soon as possible.  Cancellations with more than 48 hours notice can be rescheduled free of charge.  However, cancellations within this time mean that we still have costs that can't be refunded.  For this reason, no rescheduled sessions can be given for cancellations with less than 48 hours notice.  For any participants under the age of 18, there must be a parent or guardian present during any sessions to comply with our Child Protection Policy.  By purchasing online to agree to the session T&C's.