PADI Rescue Diver - BLOG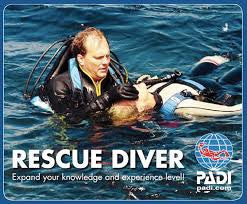 What is it?
Like most diving certifications, rescue diver has a knowledge portion combined with an applied, in-the-water component. The knowledge portion includes
Common causes of diver stress and dive emergencies
Identifying a diver in need
Dive rescue procedures and injury treatment
First aid supplies and dive rescue equipment
Managing a dive emergency
Rescuer health and safety
In-water rescue skills
In addition, you'll have to prepare an emergency assistance plan, which includes steps of emergency management for a specific dive site.
The applied part of the course is usually split into closed water (pool) exercises and open water exercises. Rescue diver is probably the most physically demanding certification, as it includes recovering unconscious divers from the water---a challenging task.
As a prerequisite, you must be CPR / First Aid certified. These are combined through a PADI certification called Emergency First Responder (EFR) that covers the same material, but you can go to any Red Cross to get the required certification. As you'll find out when you take this course, many people like having this certification alone to increase their confidence for handling things like ordinary household emergencies.
After learning about skills in a classroom, you'll have to perform them in the water. There are a lot of skills to do, ranging from simple things like cramp release all the way up to a complete rescue of an unconscious diver (including removal from the water). In between are things like towing a tired diver, helping panicked divers, and carrying divers out of the water.
The Recreational Scuba Training Council (RSTC), which includes organizations like PADI, SDI, SSI, and YMCA, has a complete list of minimum requirements for a rescue diver course. NAUI is one of the few large organizations not in the RSTC, but I imagine the required skillset is very similar.
How long does it take?
At SCUBA DIVING SCOTLAND we run the PADI Rescue course part time over four weeks - there is a half day class  usually on a Saturday, four pool sessions in the evening and two days diving in the open water to review the Rescue scenarios. The CPR / First AID (EFR) course can be completed in half a day. Expect at least one night for covering the knowledge portion, possibly including watching videos. 
Who should take it?
Now we're getting to the real crux of this article. Most regular divers will complete their advanced certification, if for no other reason just to be allowed to do deep dives. However, most people stop here, so why should you continue?
PADI has way of describing the progression through certifications. As a beginner diver, the focus is on taking care of yourself in the water. As you progress, your focus moves from within to becoming aware of other divers. The training follows this approach, as you begin with what is basically a review of self-rescue skills, and then learn how to recognise potential problems in other divers.
Honestly, I feel the training provided by rescue certification is not so much about actually rescuing people. Most divers are probably still not comfortable with that idea even after completing a rescue course. I think the advantages are more about increasing your own comfort level in the water. It's not until you reach the leadership levels do you really begin to feel the possibility of using your rescue skills.
In any learning situation, there is an old adage that to teach something is to really understand it. This thinking applies here as well. To feel comfortable helping others is to really feel comfortable with yourself in the water. It is for this reason that I recommend that all those who dive regularly take a rescue diver course. You could achieve this comfort level over time with hundreds of dives, but taking a good rescue diver course will get you there much sooner.